Hatha – All Levels, Beginners Welcome!
Hatha yoga is a strongly alignment based practice, where poses are held for a longer time, emphasizing the proper use of anatomy and breath. Classes may focus on a particular region of the body, a particular type of pose, or a philosophical concept. This is an excellent class for beginners and more seasoned students alike, to build and explore the use of the body in a number of different forms. It is also easily modified so as to be accessible to those working with illness or injury.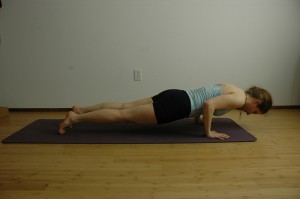 Vinyasa – All Levels, Beginners Welcome!
Vinyasa yoga is closely tied to the breath, and emphasizes movement aligned with the breath, while maintaining safe alignment. Classes are generally built around a continually flowing choreography of poses, taking advantage of the calming effects of repetitive motion through the body, and channeling that into increasing focus and awareness of our bodies. Â While suitable for newer students, the faster pace of the class can be a challenge, and it is often helpful to start with a hatha class to become familiar with the poses. Â If that is not possible, that's ok, just know that it takes some time to build that familiarity.
Vinyasa – Intermediate (on hold for now)
In this Flow Yoga experience rooted in the Vinyasa tradition, we will be moving dynamically with our breath, powerfully stretching and strengthening our bodies while finding our mental edges.  This playful and demanding palace of poses and transitions will leave you feeling challenged, refreshed, and reconnected.  Modifications are incorporated into the the class, so yogis can explore the practice that best suits their body and mind each day.
As this is an intermediate level class, it will be assumed that you have basic familiarity with poses and their basic alignment.  Please have at least six months of yoga experience prior to joining this class, or permission of the instructor.  Flexibility and strength are FAR less important than body awareness and practice at making modifications based on that body awareness.

Pre/Postnatal – All Levels, Beginners to Yoga Welcomed!
The time during and immediately following pregnancy is another time of change for the body and the mind.  This practice is designed to help the body maintain strength and stamina through a pregnancy, and build more after the long pregnancy and the challenge of labor.  It offers both a welcoming space and a way to quiet the mind even when the baby isn't.  You are welcome to bring your non-mobile infants to class where he/she can lay on the floor next to you; no separate child care is provided.  (Generally, by the time your baby is actively crawling around, you are likely to feel ready to "graduate" to another class, but you are welcome to stay in the class as long as you like.) This class is also suitable to both new and more seasoned students. We will have the time and space to learn the poses and to make use of props and modifications to keep the practice safe and accessible throughout the changes of pregnancy and postpartum.